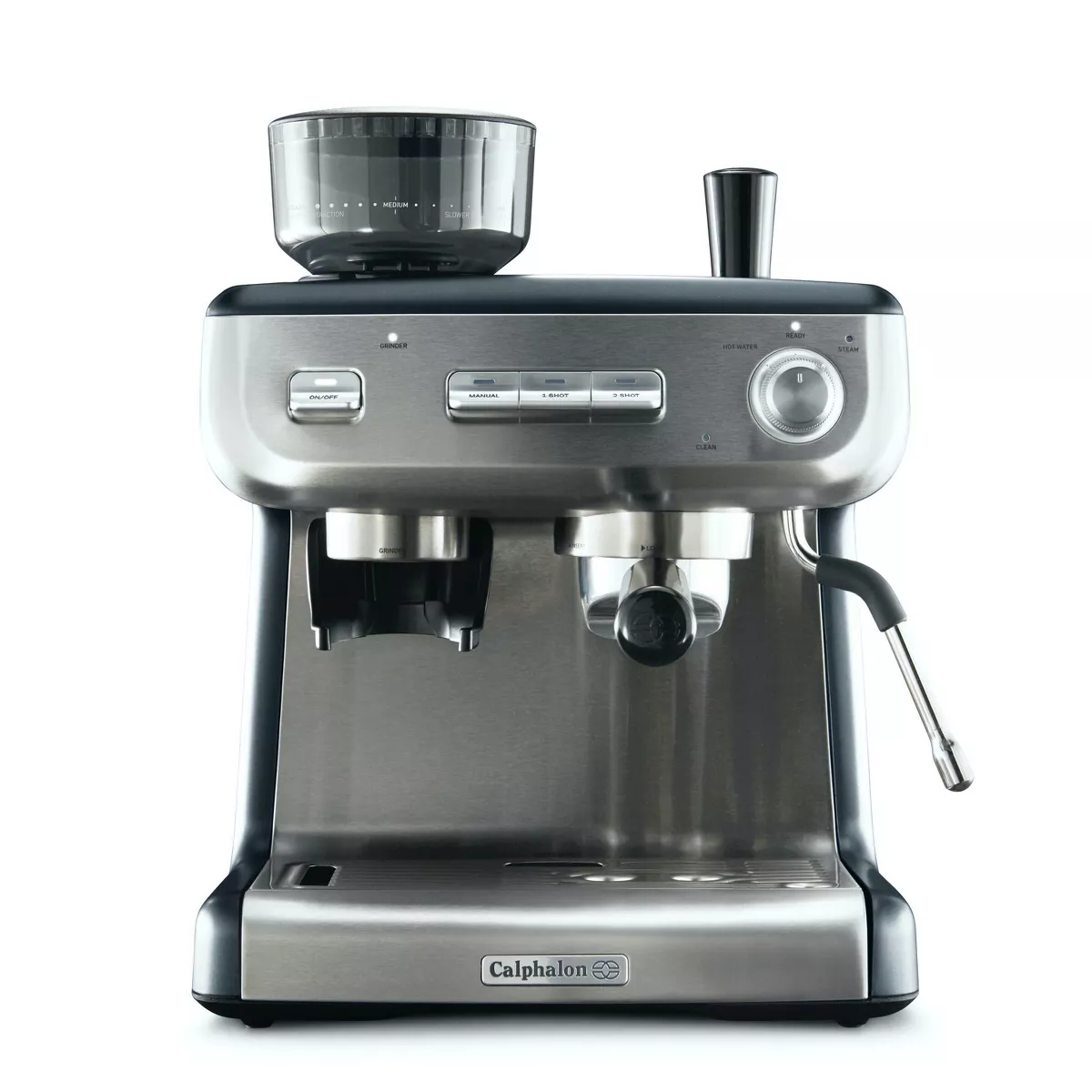 Brand: Calphalon
Color: black,silver
Features:
Note: 1)Too coarse a grind, too little coffee, or insufficiently tamping the grounds before brewing can all lead to inadequate pressure for a proper brew. 2)It is important to note that the amount of espresso extracted will vary depending on the grind size and amount and reprogramming may be needed when the size and amount are adjusted.Please refer to user guide or user manual or user guide (provided below in PDF) before first use.Filter type:Reusable
15-Bar Italian pump delivers the right amount of pressure for maximum flavor extraction and produces a beautiful layer of crema for your Espresso
Freshly grind your beans to your preference With the integrated conical burr mill Grinder with 30 adjustable grind settings
Pre-programmed settings for single and double shots, and dial interface for selecting steam, or hot water
Includes single- and double-shot single wall filter Baskets
Thermoblock heating technology and PID temperature control delivers even heat for consistently great-tasting Espresso, and gentle pre-infusion blooms The espresso grounds for optimally extracted Espresso
58millimeter café-sized porta filter holds more grounds and ensures even water dispersion and extraction for robust flavor
Removable 2.8 liter water reservoir with hinged lid for easy filling
Cup warming tray for espresso-ready cups and steam wand froths milk for creating cappuccinos, lattes, and other drinks, just like in coffee shops
Release Date: 24-09-2019
Details: Experience great-tasting espresso for cappuccinos, lattes, and more with the Calphalon temp IQ and espresso machine with grinder and steam wand. You'll get fresh espresso with every use thanks to the integrated conical burr mill Grinder featuring 30 adjustable grind settings. The temp IQ system features thermoblock heating technology and PID temperature control to evenly heat during the espresso extraction, combined with gentle pre-infusion to bloom the espresso grounds at the beginning of the Extraction. A café-sized 58mm portability allows for even water dispersion and robust flavor, and a powerful steam wand produces creamy froth and microfoam milk for cappuccinos, lattes, and more. Other conveniences like auto-shot volumetric control, cup warming tray, and hot water option, mean you'll soon be ready to enjoy delicious drinks at home, effortlessly.Features thermoblock heating technology, PID temperature control, and pre-infusion to evenly heat for consistently great tasting espresso.
UPC: 053891128728
EAN: 0053891128728